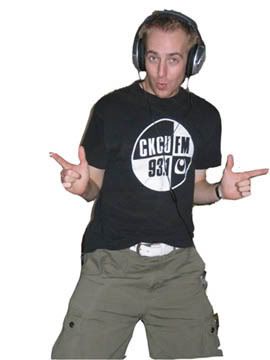 Happy almost Hallowe'en!
Much like last week, this show will focus on funding drive, though we will have an interview with Janice Stein and Eugene Lang on The Unexpected War, which is absolutely a must read for anyone interested in Canada's role in Afghanistan or how sausage is made government works.

Thanks to all those that donated last week. Our final funding drive show is tomorrow, so if you are interested in contributing, please be sure to do so. As a bonus for donating, tune in next week- I will run up a floor's worth of stairs in Dunton Tower for every $50 dollars donated. We had Padraic do it last year, and we realized that having a reasonably fit former cross-country athlete run upstairs isn't very good radio, whereas getting my easily-winded self to do it is much more fun. So donate, and then tune in to hear me suffer! (I recognize that non-donors will get to free-ride, but donors will get the satisfaction of making me hurt more). You can here what Padraic sounded like last year here.
Details on donating:
Email me! Hourtwo@gmail.com. I can take pledges, and then the station will send you an envelope to send a cheque.
Phone! 520-CKCU between 7 and 8 this tuesday (Tomorrow!), 520-3920 or 877-520-3920 between 8 and 9am.
Internets! Go to ckcufm.com and click on the donate button. No need to talk to people! Be sure to list "Tuesday Special Blend" as the show you are supporting.
Sleep in tomorrow? No worries- just pledge online or drop me a note, and I'll be sure that your pledge is counted against the show.
Thanks again for all your help!